The Boise Airport, a department of the City of Boise, offers a variety of services for passengers with disabilities. If you are a guest needing assistance, plan ahead to avoid any delay or inconvenience during your visit. Numerous accessibility services such as TTY pay telephones and visual paging monitors are available inside the terminal to assist travelers with special needs. Personal assistance is available 24 hours from marked paging phones located throughout the terminal.
Wheelchair Assistance and Service Animals
Wheelchair service and other special assistance is available through your airline. This service can be requested from the airline at the ticket counter and curbside check-in locations on the day of travel, but to ensure availability it is recommended that you call your airline to make a reservation in advance. Departing passengers may use curbside unloading on the upper level roadway in front of the terminal. Some airlines provide curbside baggage check-in. Please do not leave the vehicle unattended at the curb to seek assistance as this may result in the vehicle being ticketed. Many of the airlines at the Boise Airport have contracted with Streamline Airport Services for wheelchair assistance 208-999-2544. 
Boise Airport's service animal relief area is located pre-security outside the west exit from baggage claim on the first floor. Plastic bags and a container for disposal of solid waste are provided.
A service animal relief area is also available after the security screening checkpoint.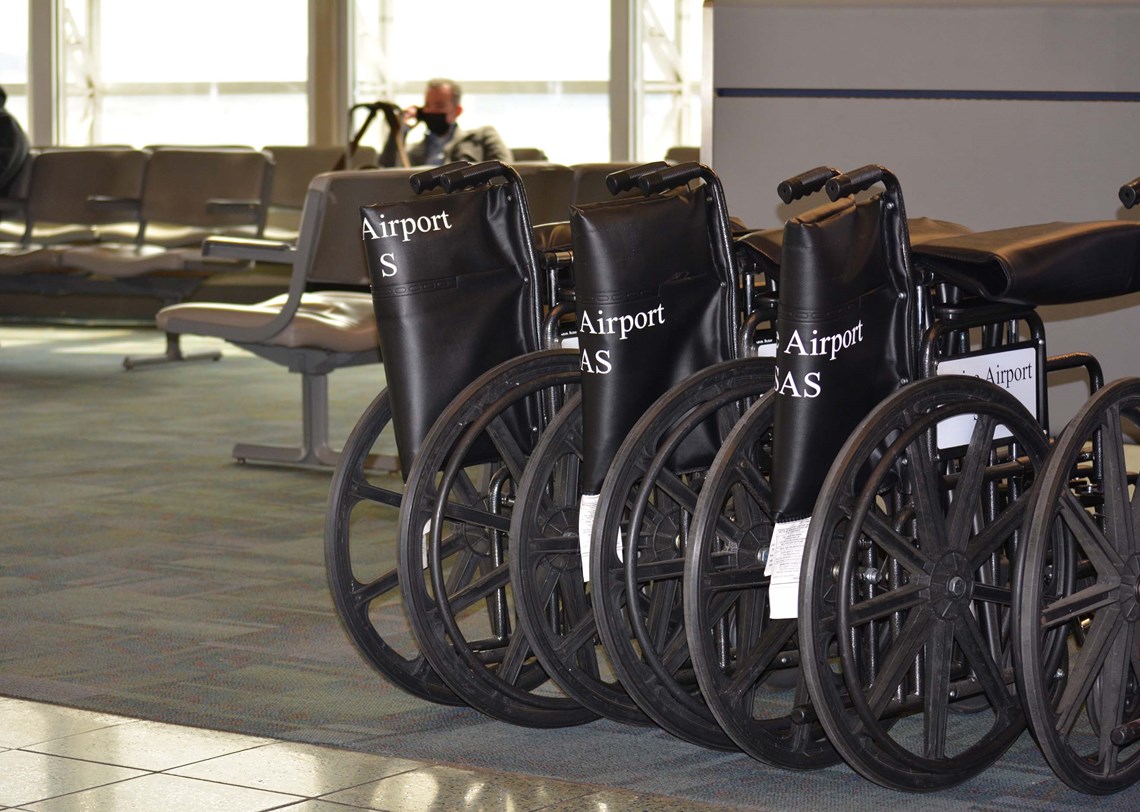 Accessible Parking and Public Transit
Accessible parking spaces are available 24 hours a day in all parking facilities operated by the Boise Airport. Upon entering the parking facility, please follow standard signage symbols for designated disabled parking spaces, commonly located adjacent to nearby elevators. Standard parking rates apply. Garage parking can accommodate vehicles of the following heights:
Floor 1: 12'0"
Floor 2: 10'4"
Floor 3: 8'0"
Floor 4: 7'3"
For additional information, contact our parking contractor, Reef Parking, at 208-343-8761.
ValleyRide provides public transit throughout Boise City and many of the surrounding communities. All buses are wheelchair accessible.
Gate Access and Security Assistance
Security measures restrict public access beyond passenger screening to ticketed passengers only. However, airlines may allow persons with special needs to be accompanied by health care assistants or guardians. If a friend or family member wants to accompany an elderly or disabled person to or from the aircraft gate, they need to obtain permission from the airline. Passengers should request this service from their airline when scheduling their flight. A family member may also meet a passenger at the gate after obtaining a gate pass from the airline ticket counter.
For more information, the TSA recommends travelers call the TSA Cares helpline 72 hours before traveling. The toll free number is 1-855-787-2227 and is staffed Monday through Friday from 8 am until 8 pm EST, or e-mail TSA-ContactCenter@dhs.gov.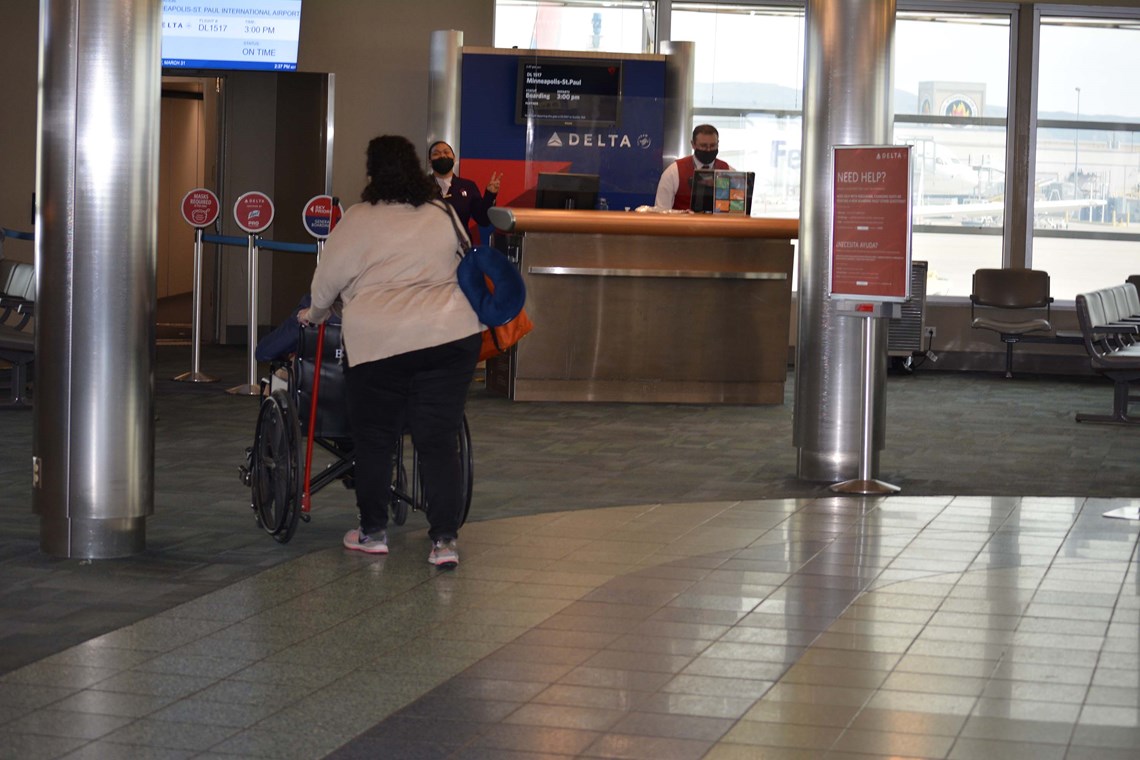 Elevators, Restrooms, Paging and Telephones
Elevators are conveniently located throughout the terminal building, as well as in the parking garage. All public elevators contain braille and lowered control panels to facilitate ease of use. There are several elevators located throughout the public areas of the terminal within close proximity of escalators and stairs.
All airport restrooms contain at least one larger stall and grab bars to accommodate individuals with accessibility needs. In addition to wheelchair accessible restroom facilities, the Boise Airport offers one family restroom located beyond security screening adjacent to the other restrooms in the food court area. Family restrooms are intended for families with young children, passengers with disabilities or other customers who require assistance. 
Visual paging is provided via our Flight Display Monitors located throughout the terminal. To place a visual page, pick up any marked paging phone or call Airport Operations at 208-972-8420.
TTY pay telephones that accommodate the hearing impaired are available pre-security on the first floor next to the restrooms and in the food court to the right past the restrooms, across from Bardenay Restaurant.
ADA Compliance and Complaint Resolution 
The Boise Airport, in compliance with federal and state laws and regulations, including the Americans with Disabilities Act (ADA), does not discriminate on the basis of disability in administration of its aviation-related programs and activities. Please direct all ADA questions, requests for auxiliary aids or service, requests for alternate format or any other concerns or complaints to the Airport Administration Offices during regular business hours 208-383-3110.
The Boise Airport is committed to providing equal opportunities for the disabled traveling public, applicants, participants, employees and other interested persons. The traveling public and other persons as listed above who believe they have been subjected to discrimination on the basis of disability, or have been denied access to services or accommodations required by law, should contact the Boise Airport ADA Coordinator at: 
City of Boise ADA/504 Coordinator
625 W Idaho Street
Boise, ID 83702
Voice: 208-384-3850
TDD/TTY: 800-377-3529
Boise Airport ADA/504 Department Liaison
3201 Airport Way, Suite 1000
Boise, ID 83705
Voice: 208-383-3110
TDD/TTY: 800-377-3529
To review the City of Boise/Boise Airport Americans with Disabilities Act Complaint Procedures, or to file a complaint, please go to the City of Boise ADA and Section 504 webpage.
For information on the Boise Airport's non-discrimination obligations or for information on filing a complaint, please visit this page.